DELL PowerVault MD1400 Direct Attached Storage (DAS)
12 Harddrive Filler Slot 3.5", 10x 1TB, 1Gb NV Cache, PERC H810 RAID Adapter for External JBOD, 2U Rack

Expand and accelerate data access
The Dell Storage MD1400 direct-attached storage (DAS) enclosures with 12Gb SAS throughput have been specifically engineered to work with the 13th generation of PowerEdge servers using the newest line of PowerEdge RAID Controller 9 (PERC9) 12Gb SAS cards. Scaling capacity behind innovative next-generation servers enables end-to-end 12Gb solutions with exceptional storage flexibility and IO performance for such applications as:
High-performance databases
Streaming digital media
Storage-intensive applications
Match your data requirements
With twice the data throughput as previous generation enclosures and flexibility to mix and match NL-SAS, SAS and SSD drives, the MD1400 offer you a wide variety of options that can fit your exact specifications. From the high-density MD1400 with up to 12 x 4TB 6Gb HDDs to the performance –optimized MD1420 with up to 24 x 12Gb 2.5" SSDs, whatever configuration you choose provides a viable storage solution for your particular workload.

Directly connect up to eight MD enclosures behind your PowerEdge server using a 12Gb SAS host bus adapter (HBA) or the PERC9 card. Provide up to 384TB maximum capacity (eight MD1400 enclosures, each with 12 x 4TB 7200 rpm 3.5" SAS HDDs) or up to 192 high-speed SSDs (eight MD1420 enclosures, each with 24 x 12Gb SAS 2.5" SSDs) for each server.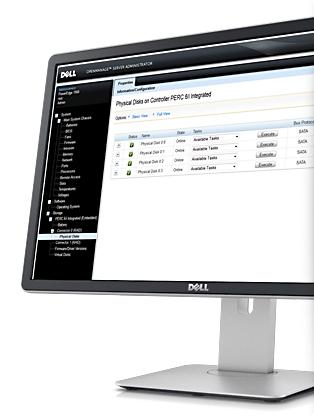 Manage and secure with ease
Dell OpenManage storage manager software allows you to manage both the in-server storage and external DAS as a single interface, optimizing with the end-to-end 12Gb connectivity. If drive security is a priority, the option to include self-encrypted drives (SEDs) with drive-level encryption ensures your data is secure, even when the drive is removed. What's more, the SEDs support instant Secure Erase, which permanently removes data when repurposing or decommissioning drives.

The MD series complements the existing Microsoft® Windows Server® 2012 R2 software currently operating on the PowerEdge servers, allowing users who are familiar with, or have standardized on, the Windows OS management tool to take advantage of their tightly integrated management tools through Storage Spaces. Windows Storage Spaces is simple and easy to use regardless of the user's level of familiarity with storage systems. With the MD series you can take advantage of the many features offered with Storage Spaces, including automatic storage tiering and disk resiliency.
Keep your budget low
Each uses the same hot-swappable drives, fans and power supplies as the 13th generation of PowerEdge servers, helping you simplify upkeep and minimize the cost of replacements. The simple design, multiple configurations and shared technology with the host servers helps make the MD1400 reliable, cost-effective DAS for virtually any data center need, including critical applications such as backup and disaster recovery storage.
General
Raid Controllers
0, 1, 5, 6, 10, 50 and 60
Harddrive
10 TB (10x 1TB), 6Gbps, 3.5-in, 7.2K RPM Hard Drive (Hot-plug)
Drive Bays
Drive count per chassis: Up to 12 hot-pluggable 3.5" and 2.5" drives (2.5" available with adapter), Drive performance and capacities: 3.5" NL-SAS 6Gb HDD (7.2K): 1TB, 2TB, 4TB, 6TB, 3.5" NL-SAS 512e 12Gb HDD (7.2K): 8TB, 2.5" SAS 6Gb HDD (7.2K): 500GB, 2.5" SAS 6Gb HDD (10K): 300GB, 600GB, 1.2TB, 1.8TB, 2.5" NL-SAS 12Gb HDD (7.2K): 2TB, 2.5" SAS 12Gb SED (15K): 600GB, 2.5" SAS 6Gb HDD (15K): 300GB, 600GB, 2.5" SAS 12Gb SSD: 200GB, 400GB, , 800GB (WI); 200GB, 400GB, 800GB, 1.6TB (MU); 800GB, 1.6TB (RI), Maximum capacity per enclosure: Up to 72TB when using 12 x 6TB NL-SAS 3.5" HDDs
Slot Provided
Expansion capabilities: PERC H830 HBA enables expansion to 8 enclosures, PCIe 3.0, 12Gbps SAS, dual-port, 4 ports per enclosure
Power Supply
AC – 600W; DC – 700W
Chassis Form Factor
2U rack mount system
Frekuensi
50/60 Hz
Temperatur
Operating: 10° to 35°C (50° to 95°F) with maximum temperature gradation of 10°C per hour, Storage: -40° to 65°C (-40° to 149°F) with temperature gradation of 20°C per hour
Management
System Management
Enclosure Management Modules (EMM): 2 EMM provide redundant enclosure management capability
Product
Dimension
8.7 cm x 48.2 cm x 54.1 cm (H x W x D)
Weight
28.59 kg
Garansi
3-Years ProSupport Onsite Service
Rack Support
Dell ReadyRails™ II static rails for tool-less mounting in 4-post racks with square or unthreaded round holes or tooled mounting in 4-post threaded-hole racks
Write a review for DELL PowerVault MD1400 Direct Attached Storage (DAS)
Note: HTML is not translated!
Rating: Bad Good
Enter the code in the box below: