DELL Networking N4032F
24x 10GbE SFP+ Fixed Ports, 1x Modular bay, 2x Power Supplies
Upgrade your network
N-Series is a family of energy-efficient and cost-effective 1GbE and 10GbE switches designed for modernizing and scaling network infrastructure. The N4000 Series allows you to apply 10/40GbE wire-speed flexibility to your existing campus network with high-performance, non-blocking switches that:
Use MLAG for multipath loop-free redundancy without spanning tree to enable full-bandwidth utilization and high availability
Promote greater interoperability through interfaces with Cisco's Rapid Per VLAN Spanning Tree (RPVST+) and devices using Cisco Discovery Protocol (CDP)
Offer a more flexible choice in your network by uniting products with the latest open standard protocols
Feature advanced IPv4 and IPv6 Layer 3 routing, security and scalability features
Converged network support for DCB with Priority Flow Control (802.1Qbb), ETS (802.1Qaz), DCBx, iSCSI TLV Support.
Plug-and-play configuration with Dell EqualLogic iSCSI storage arrays with one-command iSCSI setup that alleviates multiple-step configuration and potential configuration errors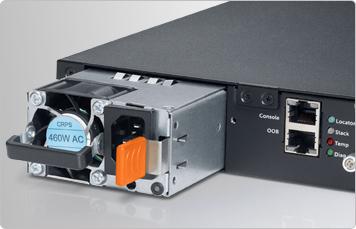 Designed for efficiency
Built to help keep operating costs down, the N4000 Series has Fresh Air capability, enabling them to operate at temperatures up to 113°F (45°C) to help reduce cooling costs. Features designed to improve overall efficiency include:
Dual hot-swappable 80PLUS-certified efficient internal power supplies
Redundant variable-speed cooling fans
Energy-Efficient Ethernet and low-power PHYs to help reduce power to inactive ports and idle links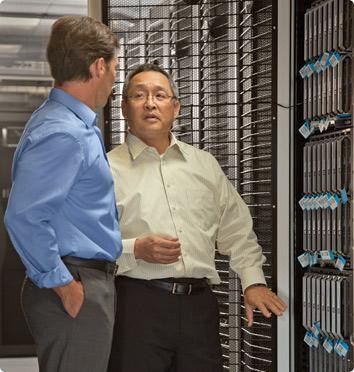 Advanced feature set to simplify management
The Dell Networking N4000 Series is designed for easy deployment, outstanding interoperability and a low learning curve for network administrators. A single OS release (Dell Networking OS 6) allows you to maintain consistent configurations across all N-Series products with a comprehensive feature set that includes:
One common command line interface (CLI) and graphical user interface (GUI) that use a well-known command language to help skilled network administrators become productive quickly
USB auto-configuration that helps network administrators rapidly deploy mirrored configurations to numerous devices by simply inserting a USB key
A variety of enterprise-class features with familiar and intuitive configuration and management commands
The latest open-standard protocols and smart integration technologies to help make smoothly operating multi-vendor networks possible
Deploy with confidence at any scale
The resilient stacking architecture of the N4000 Series provides reliable network performance and amazing density for demanding network environments. It also helps future-proof your network investments as enterprises migrate from 10GbE core deployments to 40GbE.
Data rates up to 1.28Tbps (full duplex) and a forwarding rate of up to 952Mpps
Scale easily with 10/40Gbps user port stacking supporting up to 160Gbps on N4032 and 320Gbps on N4064 (full duplex) at distances up to 100 meters
Up to 64 line-rate 10GbE ports per switch using breakout cables and up to 672 10GbE ports in a twelve-unit stack
Hot swap expansion module supports dual port QSFP+ (8 x 10GbE), quad port 10GBaseT and quad port SFP+
Switch stacks up to 12 units can be managed via flexible user port stacking at 10Gbps or 40Gbps speeds
Tool-less ReadyRails kit allow switches to be installed in moments
General
Capacity
24x 10GbE SFP+ auto-sensing (10Gb/1Gb) fixed ports, 12x Dell Networking, Transceiver, SFP+, 10GbE, SR, 850nm Wavelength
Connectivity
1 RJ45 console/management port with: Rear, 1 Out-of-Band (OOB) Management Port (10/100/1000BASE-T): Rear, 1 USB (Type A) port for configuration: Front
Product
Dimension
43.43 x 433.83 x 459.99 mm (H X W X D)
Garansi
3-Years ProSupport: (7x24) Onsite Service
Write a review for DELL Networking N4032F
Note: HTML is not translated!
Rating: Bad Good
Enter the code in the box below: