DELL EqualLogic PS4110XV Storage Array Network
Merk: DELL
Model: PS4110XV
Jelaga Part No. SKU00002447
In Stock
12 x 600GB 15K SAS Hard Drives, 7.2TB Capacity, Redundant Power Supply 700W, 2U Versa Rail
Enterprise power with everyday simplicity
Master your data-hungry tasks with EqualLogic™ PS4110XV—powerful performance with easy, flexible management for small or midsize companies and enterprise branch offices.

Enterprise features for smaller deployments
Ideal for your growing storage needs, the PS4110XV 10GbE iSCSI array is a Dell Storage solution that offers a virtualized architecture, enterprise software and easy administration at an affordable price.
Leverage your existing infrastructure with 10GbE SFP+ or build out your network with new, cost-effective 10GBASE-T (both supported).
Use the EqualLogic virtualized scale-out architecture for mid-tier server consolidation and virtualization in remote and branch offices.
Integrate full snapshot, replication and application integration for data protection and disaster recovery.
Cut management time and costs with self-optimizing performance and automation.
Manage your entire EqualLogic SAN, including PS4110 remote-site arrays, with EqualLogic SAN Headquarters (SANHQ).
Easily grow your EqualLogic SAN by adding other PS Series arrays to scale capacity and performance.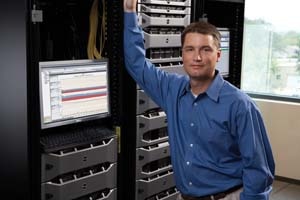 High-performance flexibility
Consolidate your remote office storage with the high-IOPS performance of the PS4110XV arrays. With 24 SAS 2.5" drives, each operating at 15K rpm, the PS4110XV is the highest performing array in the PS4110 line. It features:

Dual 10GbE controllers and dual power supplies designed for built-in redundancy
Dedicated 10/100 management port per controller
6G SAS backplane
24 hot-swappable 15K 2.5" SAS drives with up to 7.2TB1 capacity
Cache-to-flash memory de-staging
Peer-scaling architecture that scales performance linearly
Vertical Port Sharing, designed to enable you to maintain full bandwidth if a networking port fails
Group Manager, which integrates all management into one console for both file and block storage protocols
EqualLogic Host Software that extends the functionality of the array-based software to enable cooperation with the host
Host Integration Tools for Microsoft®, VMware® and Linux® products as well as EqualLogic SAN Headquarters management software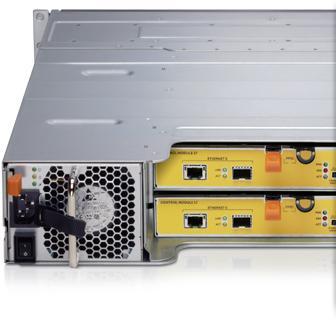 Grow confidently with advanced firmware features
Meet your current storage needs and future data management requirements with EqualLogic firmware.
Data Center Bridging
Improve Ethernet quality of service and greatly reduce dropped packets for an end-to-end Dell solution, from host adapters to iSCSI target
Enhanced load balancing
Optimize storage pool performance with sub-volume auto-tiering and enhanced load balancing.
Thin Provisioning awareness
With VMware® Thin Provisioning awareness for vSphere™ v5, you can mitigate your risk of data loss and facilitate graceful data recovery.
General
Raid Controllers
RAID 5, RAID 6, RAID 10, and RAID 50
Harddrive
7.2 TB (12x600GB) 15K SAS Hard Drives
Jaringan
10GbE connectivity with one (1) 10GBASE-T with RJ45, one (1) 10GbE SFP+ for fiber or twin-ax copper cabling, and one (1) 100BASE-TX dedicated management port per controller
Fitur
Reliability: Vertical port sharing, Redundant hot-swappable controllers, power supplies / cooling fans, and hot-swappable disks, Individual disk drive slot power control, Cache-to-flash, Enclosure Monitoring System: Automatic spare configuration and utilization, SMART, Automatic bad block replacement, Auto-Stat Disk Monitoring System (ADMS) to monitor health of data on disk drives, Management Interfaces: SAN HeadQuarters multi-group performance and event monitoring tool, Serial console, Ability to configure a separate management network, SNMP, telnet, SSH, HTTP, Web (SSL), host scripting, Multi-administrator support
Security
CHAP authentication, Access control for iSCSI, Access control for management interfaces including RADIUS support
Drive Bays
Twenty-four (24) 15K SAS hot-pluggable hard disk drives (Twelve (12) drive configuration available.
Power Supply
Redundant Power Supply, 700W
Frekuensi
50/60 Hz
Controller
Dual controllers, each with 4GB memory for PS-series firmware. Each controller provides cache to flash for data protection.
Temperatur
Temperature range: 5° to 40°C (41° to 104°F) with a maximum temperature gradation, Storage temperature: -40° to 65°C (-40° to 149°F) with a maximum temperature
Software
OS Compatibility
Windows® 2000 Server, Windows Server® 2003, Windows Server® 2008, including Hyper-VTM, Windows Vista®, Windows Server® 2008 R2 including Hyper-VTM, Windows XP®, Red Hat® Enterprise Linux®, SUSE® Linux® Enterprise, SunTM SolarisTM, IBM® AIX®, HP-UX, Mac OS® X, VMware® ESX Server 3 / 3.5 / 4 / 4.1 / 5, ESXi 3.5 / 4 / 4.1, Citrix® XenServerTM, Novell® NetWare®
Product
Dimension
8.68 x 44.63 x 54.1 cm (H x W x D)
Weight
24.1 kg
Garansi
3-Years ProSupport: (7x24) 4-hour Onsite Service, 3-Years EqualLogic Advanced Software Warranty and Service,7x24 Access
Write a review for DELL EqualLogic PS4110XV Storage Array Network
Note: HTML is not translated!
Rating: Bad Good
Enter the code in the box below: